Post by Finn Quill on Nov 11, 2015 2:19:31 GMT -5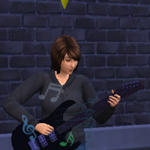 Honestly, I'd love to see Maxis (or any developer really) come out and just say: 'Hey, stop being assholes or code it your damn selves. We have budgets, salaries, deadlines, and a number of other issues to deal with, we're working on it!' The Sims is pretty much the only game of its kind on the market, that's usually a pretty good indicator that it's either very niche or hard to develop. Objectively, the game could be better, but relatively, who is making better content? Maybe it's just not that easy.
This statement makes me really sad. Whether you're 22 or 54, Ryu, I'm thinking, "Kids these days have such low expectations."
Running a business isn't brand new territory. There is nothing new under the sun about an exec jumping on-board with some new thing and not having the sense to stop for a second to think that maybe one or two of the many, many projects he's decided it will apply to across the board aren't as uniformly suited to it (especially when his employees are saying so emphatically).
It was a mistake. It was a matter of incompetence. It wasn't that suddenly for no reason there was a budget; it was that the budget couldn't cover both the failed project and the one that went out.
And, yes, when the franchise ends, which I'm sure has already been decided, there will be other people to fill the gap. I just hope those people aren't doing it in an economic environment, where marketers are telling them straight up that it would be stupid to even try to make it a quality product because everyone now knows that customers will accept anything (even having to be unpaid pro-corporate spokespeople) and still pay as much.
You make the world you live in.
I did say, I hate EA as much as the next guy, and I do, but I also hate fans who act entitled. Again, I'm not talking about people here, but it's not a small portion of the fanbase. I can't count the number of 'This is what EA/Maxis needs to do' posts out there. No one needs to cater to anyone, or make video games at all, and there's plenty of content I want, but I'm not going to pretend they owe me. If they were catering to me, we'd be seeing Pets and Supernatural content now, and screw toddlers (not that I don't want toddlers, but I want other stuff way more).
So yeah, there's totally greedy assholes at the top who are taking more than their share and using shoddy data to push bad ideas, but they're not the developers. If I work at the cash register at Wal-Mart, I'm not in charge of their policies. The fans don't get a pass for entitled, childish tantrums because EA is run by greedy businessmen. The customer is very much not always right, and that mentality does no good.
As to 'The next game in the series needs to be better, period', your statement isn't objective truth. Even with all the expansion packs and content, I haven't played Sims 3 as much in the entire time it was out as I have Sims 4 in the past month. To me, Sims 4 is the much superior game. I get why some people wouldn't feel that way, but it's not objective by any means.
I'm not saying anyone's wrong to dislike the game, but it's 'inferiority' is not a
fact
, and I've seen way too many people talk like it is. Once you start talking in absolutes and demands, it's no longer constructive.